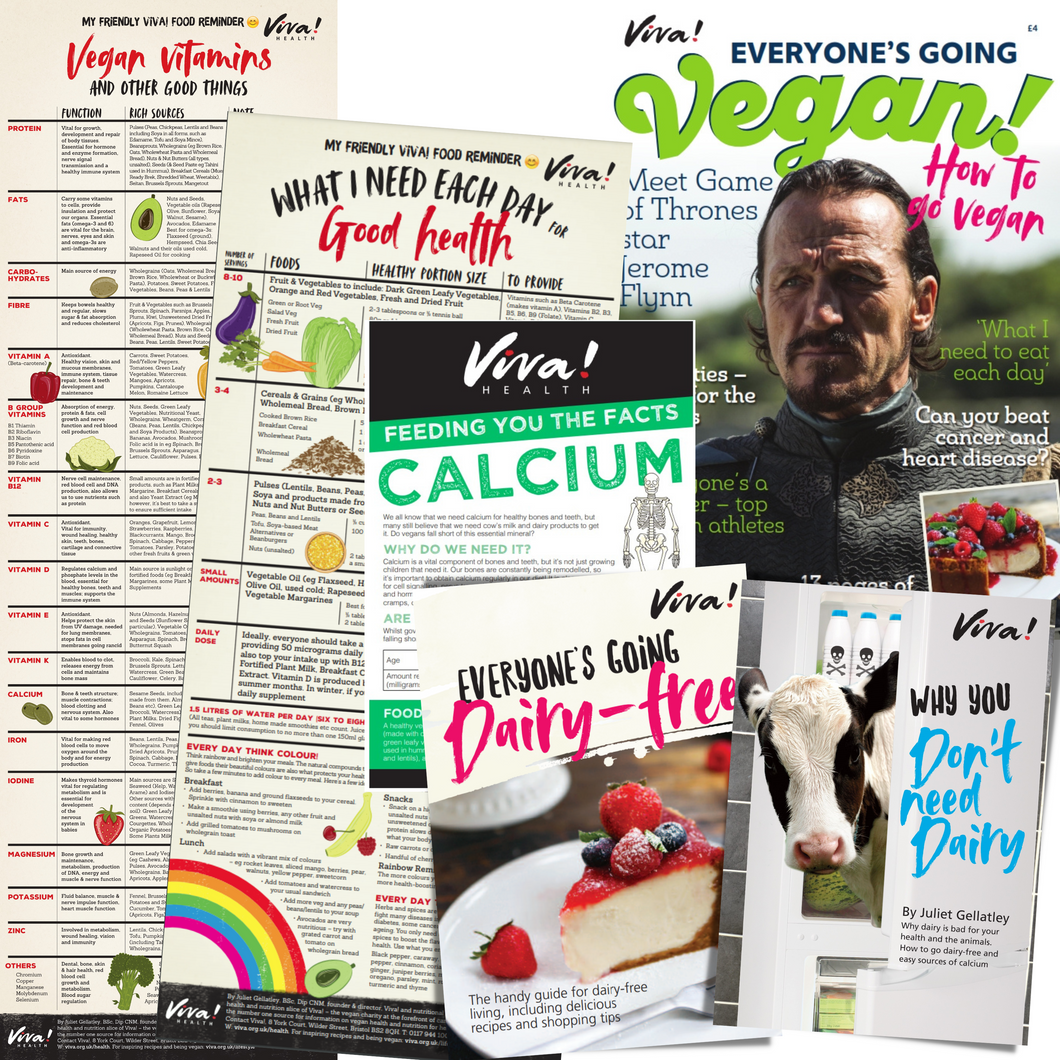 Dairy-Free Super Pack
Dairy-Free Super Pack
EXCLUSIVE OFFER £5 including p&p 
This pack's value is over £10 + p&p!
 
Going dairy-free has never been so easy!
This colourful pack bursting with juicy information, tips and recipes contains:
Everyone's Going Dairy-Free Guide: Features over 90 pages chock full of recipes from homemade vegan Melting Mozzarella, to Sticky Toffee Pudding. This handy guide also features a chart that shows you what foods are calcium-rich; helpful shopping lists on where to get your essential dairy-free products from vegan cheese to tofu and Viva!'s top dairy-free secrets.
Why You Don't Need Dairy Guide: The definitive, go-to guide for those who want to go dairy-free, get informed (and healthy!) and find tasty alternatives. Covers topics including health impacts of drinking milk, calcium in a dairy-free diet, bone health, dairy cow and goat farming and a lot more about milk - and why you're better off without it.
Vegan Vitamins & Minerals Wallchart: Fun, colourful wallchart which shows you where to get all the nutrients you need from plants for a healthy, vibrant diet at a glance. Laminated, so ideal to put up on your fridge or on a kitchen wall. 210mm x 585mm.
What I Need Each Day Wallchart: Inspiring, vibrant chart that details recommended portion sizes for each of the five veggie food groups and the essential vitamins and nutrients they provide. Laminated. 210 x 465mm
Everyone's Going Vegan Magazine: An epic FULLY UPDATED 64 page magazine that is part of our vegan campaign to change Britain's eating habits and change the world.
Calcium fact sheet: This fact sheet explains how calcium from cow's milk can harm and why plant calcium is best. Includes information on healthy bones and best calcium sources.
One pack- Max 1 per customer
About Viva!
Viva!'s fight is a fight for life – for animals and ourselves. Through effective campaigning, we take the brutal reality of intensive farming to the people who can effect the most change: consumers. Our wide-ranging campaigns promote veganism as the best way to save animals from suffering, protect the environment, improve health and help those in developing countries.
We have cleared most shelves of so-called 'exotic meats'; our campaign against factory farming of pigs, turkeys and ducks aw deaths dive; we are closer than ever to a foie-gras free Britain and meat and dairy consumption are down in the UK thanks to Viva! and you. Viva! is a registered charity (1037486).