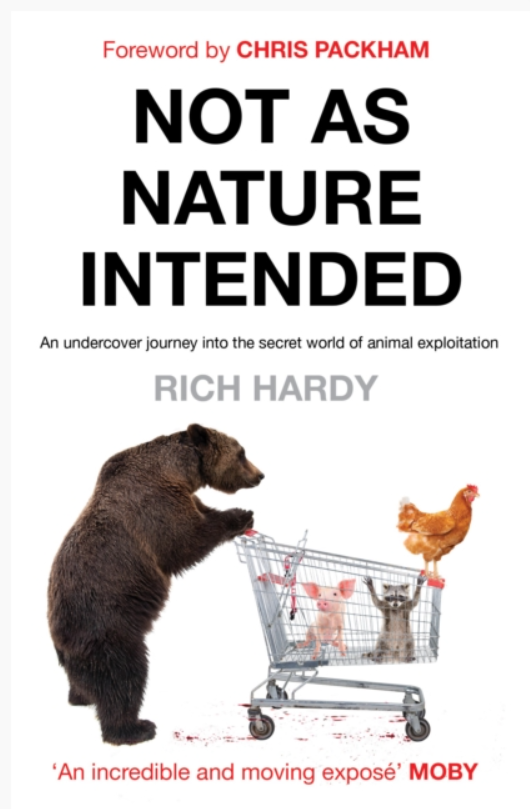 Not As Nature Intended: An Undercover Journey Into The Secret World Of Animal Exploitation
Regular price £10.99 Sale
Relying on a hidden camera, a bluff and a little bit of luck, award-winning investigative journalist Rich Hardy finds imaginative ways to meet the people and industries responsible for the lives and deaths of the billions of animals used each day to feed, clothe and entertain us. 
What he discovers will shock, but it may just inspire you to re-evaluate your relationship with all animals and what role you let them play in your life.
 Sometimes dangerous, often emotional and occasionally surreal, this one-of-a-kind perspective examines what it's like to live and work amongst your adversaries and what you can achieve if you feel strongly enough about something.
About the Author
 Rich Hardy has been a professional environment and animal protection activist for over 25 years. He has led campaigns for some of Britain's most creative and successful non-profit organisations including Surfers Against Sewage, cleaning up Europe's coastlines and starting their fight against ocean plastic, and Veganuary, a pledge campaign that inspired a quarter of a million people to try a vegan diet in 2019.
But all the while, over the course of two decades, he's been going undercover to document animal suffering, for human gain. His images and testimony have fuelled the work of over twenty international animal protection organisations.
His high-risk endeavours saw him awarded a Daily Mirror 'Animal Hero' Award in September 2019.
Praise for Not As Nature Intended
'Cruelty to animals goes on daily behind the closed doors of factory farms or deep in the forests where wild animals are trapped for their fur. Rich's book exposes us to the raw truth behind these animal trades. Whilst it's a deeply personal story, it has the potential to change, not just your own life, but the lives of millions of animals. I urge you to read it!' Joanna Lumley - Actress, author and activist
'An incredible and moving exposé of the horror that animals go through to create a product that destroys the environment & keeps people sick and miserable.' Moby - Musician and activist
'It is beautifully and lucidly written...it avoids gratuitous expression but delivers the truth in a compelling and penetrating narrative. "Not As Nature Intended" is a must read.' Peter Egan - Actor & animal advocate
'A 007 of the animal world.' Rhian Lubin - The Daily Mirror 
'As you read this book, if you have a heart and a soul, you too won't fail to be bowled over by Rich's courage.' Jane Dalton - The Independent
'All the evidence we need to make our future a plant-based one.' Christina Rees MP - Chair of the All-Party Parliamentary Group on Vegetarianism and Veganism
'An eye-opening insight into the horrors endured by animals around the world - and into the minds of those who risk everything to help them.' Maria Chiorando - Plant Based News
'Rich Hardy is a hero.  This book will open your eyes to how animals are treated to turn them into food or fur, or get them to entertain us in circuses, and to the risks Hardy had to take to inform the public about this.' Peter Singer - Professor of Bioethics, Princeton University and author
Author
by Rich Hardy
Binding
Paperback

Number of Pages
224pp