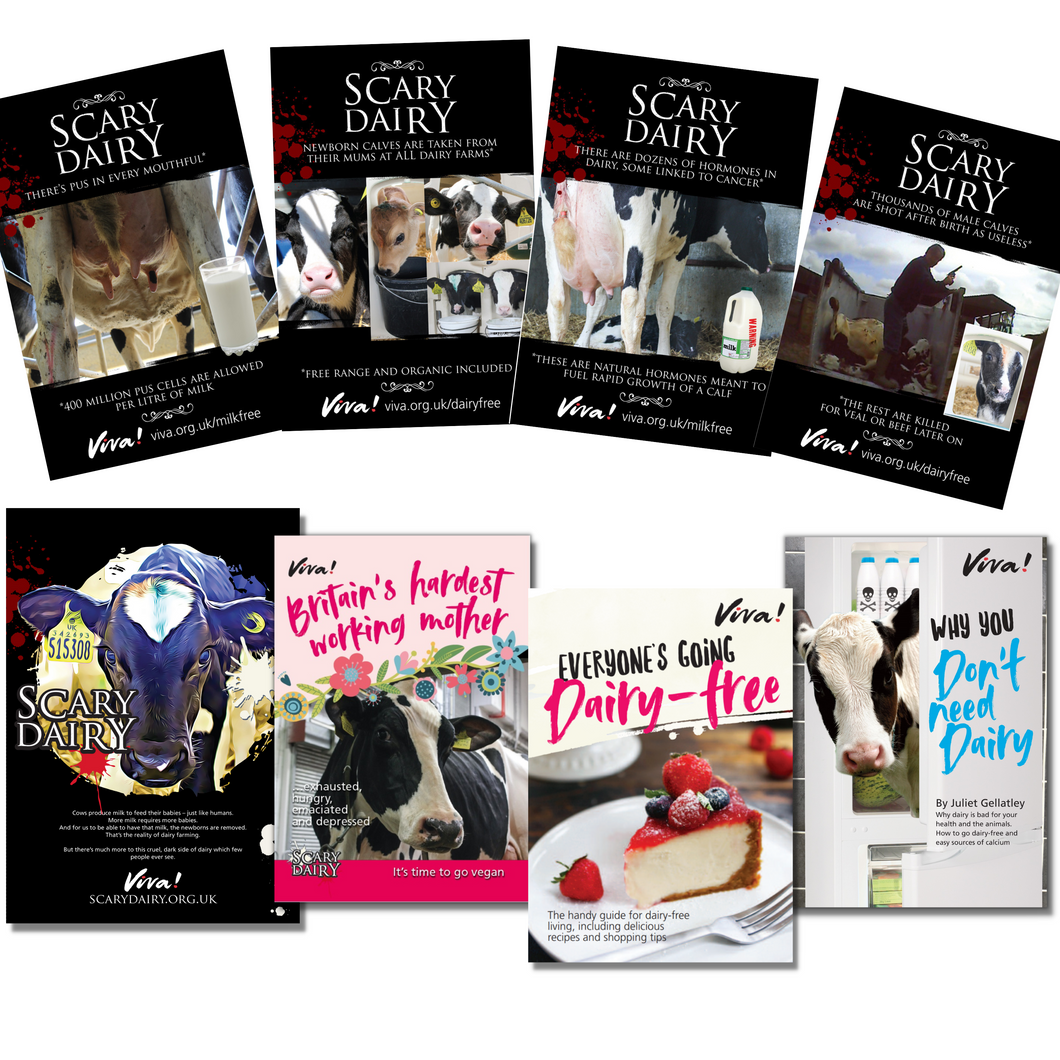 Scary Dairy Stall Pack
Regular price £20.00 Sale
The ultimate pack for information stalls, enabling you to do effective outreach and offer practical advice to the public about why and how to change their diet.
The price of all these materials would be over £200 but we're offering it at £20 just to cover at least some of our costs. And P&P is included in the price!
The pack includes:
200 Britain's Hardest Working Mother leaflets - a brief leaflet outlining the inherent cruelty of the dairy industry
100 Scary Dairy leaflets - a brief leaflet outlining the inherent cruelty of the dairy industry
50 Everyone's Going Dairy-Free guides - a colourful A5 guide full of practical information and recipes
50 Why You Don't Need Dairy guides - a comprehensive guide delving into all aspects of why we shouldn't be consuming dairy
Scary Dairy A2 poster series - four posters focusing on the main issues with dairy production and consumption
Tips for positive and effective outreach and supporting information
If you're organising a stall, please let us know so we can help and share the information about local events - email campaignorders@viva.org.uk 
About Viva!
Viva!'s fight is a fight for life – for animals and ourselves. Through effective campaigning, we take the brutal reality of intensive farming to the people who can effect the most change: consumers. Our wide-ranging campaigns promote veganism as the best way to save animals from suffering, protect the environment, improve health and help those in developing countries.
We have cleared most shelves of so-called 'exotic meats'; our campaign against factory farming of pigs, turkeys and ducks aw deaths dive; we are closer than ever to a foie-gras free Britain and meat and dairy consumption are down in the UK thanks to Viva! and you. Viva! is a registered charity (1037486).