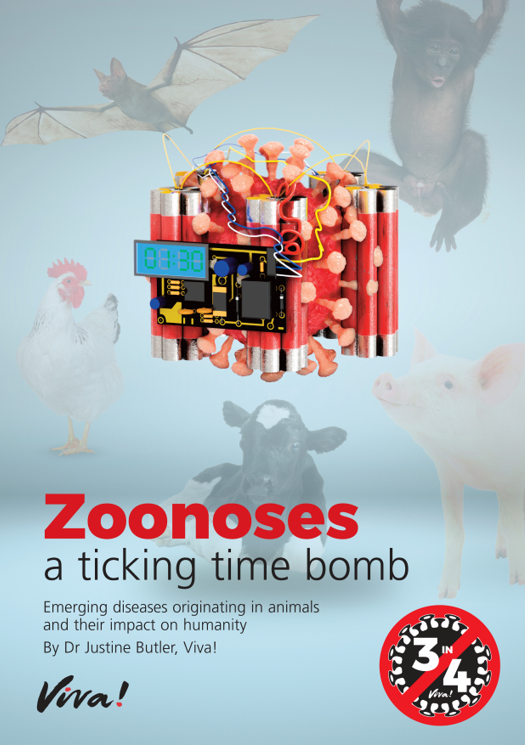 Zoonoses Report
Viva!'s ground-breaking report investigates zoonotic diseases, such as Covid-19, that have jumped from animals to humans. It includes measles, Ebola, AIDS, SARS, MERS, bird flu and antibiotic-resistant superbugs. Find out where they came from and what role wet markets and factory farms play. How can we avert another pandemic? This essential report reveals all.  

"After the unprecedented challenges we all faced through Covid-19, this report helps us understand the huge threat we face from zoonoses – spreading due to our exploitation of animals. An excellent and timely report." Dr Michael Greger, physician, author and international speaker on nutrition, food safety and public health and author of How Not to Die.
Author
Dr. Justine Butler
Binding
Softcover Report
About Viva!
Viva!'s fight is a fight for life – for animals and ourselves. Through effective campaigning, we take the brutal reality of intensive farming to the people who can effect the most change: consumers. Our wide-ranging campaigns promote veganism as the best way to save animals from suffering, protect the environment, improve health and help those in developing countries.
We have cleared most shelves of so-called 'exotic meats'; our campaign against factory farming of pigs, turkeys and ducks aw deaths dive; we are closer than ever to a foie-gras free Britain and meat and dairy consumption are down in the UK thanks to Viva! and you. Viva! is a registered charity (1037486).